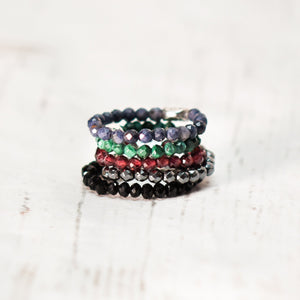 Gemstone Ring
Availability: Once made, items ship in 2 days.
DETAILS
Add some fun to your hand with these gemstone rings. Faceted 3mm beads hand strung on elastic to fit every finger, this ring is the perfect accessory. Available in 3 sizes.

FEATURES
• Size: Small 6-6.5" • Medium 7-7.5" • Large 8-8.5"
• Quantity: 1
• Gemstones: garnet, black spinel, sapphire, malachite, hematite
GEMSTONES
• Garnet cleanses and re-energizes the chakras.
• Black Spinel is a protective stone that repels negativity and grounds the user, while evoking inspiration and empowerment.
• Sapphire brings wisdom, It releases mental tension, depression, unwanted thoughts, and spiritual confusion.
• Malachite is an important protection stone, clears and activates the chakras and attunes to spiritual guidance.
• Hematite is linked with its ability to absorb any toxic emotions holding you back from your natural state of joy and vitality.
This ring is an exquisite piece. Wear alone or stack them up.
Please send any special requests to info@excessorizebystacey.com