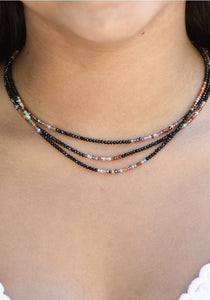 Black Spinel and Mixed Gemstone Choker
Availability: Once made, items ship in 2 days.
DETAILS
Add some elegance to your neck with our Black Spinel & Mixed Gemstones Choker. Hand strung on wire to fit every neck, there are many sizes available. This glamorous choker is sure to catch the eye. This choker is made with Black Spinel (2mm), Mixed Zircon Gemstones (2mm) and a Sterling Silver Clasp. It is the perfect layering necklace.
FEATURES
• Size: 15" • 16" • 17" • 18" • 20" 
• Material: 2mm Black Spinel & 2mm Mixed Zircon Gemstones 
• Metal: Sterling Silver Clasp
GEMSTONES
•Black Spinel is a protective stone that repels negativity and grounds the user, while evoking inspiration and empowerment
This gemstone makes this beautiful sophisticated choker full of inspiration and empowerment. Wear alone or in a layered look. 
Please send any special requests to info@excessorizebystacey.com